2023 Iowa Angus Tour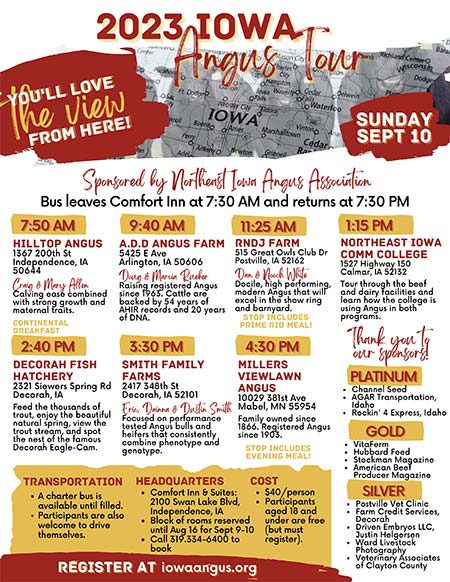 Sunday, September 10, 2023
Headquarters
Comfort Inn & Suites
2100 Swan Lake Blvd
Independence, IA
---
Cattle For Sale
July 7, 2023
Thanks to everyone that particapated in our January 25th Bull Open House. You helped make it our most successful sale. Thank you!

We are sold out of bulls at the present time.
The bulls pictured below will be used in our program or offered for sale later this summer.
Docile, 6-7 Frame bulls with good feet.
Bulls based priced in numerous price ranges.
Complete Performance Records including DNA are available.
DNA includes: parentage, traits, recessive genetic defects free, and red free
We do fertility exams on all bulls.
All bulls have freeze brand identifications.
All bulls will be vaccinated and wormed.
$400 deposit will keep your bull selection until you are ready for them. (mid-April to early July)
All bulls have a base price. Contact us for base price, current weights, and DNA profiles.
We can deliver.
Female Open House, November 11, 2023 at 11:30 am at 5425 E Ave., Arlington, Iowa
Selling bred females and open heifers.
Contact us for more information and selling details.
Backed by 54 years of Performance Records
Doug's Cell: 563-920-1428
Marcia's Cell: 563-608-2632